Welcome to Oakleaf Estates
We are Rochdales newest and brightest estate agents. We combine the freshness and enthusiastic approach of a forward-looking company with the experience and dedication of its principals who between them have many years of experience of property marketing.
Having worked and managed with the some of the largest estate agency firms in the country, the staff and managements commitment is to successfully market and sell your property within the shortest period of time.
Our aim is to provide a friendly, efficient and ethical service.
Our clients' needs will be paramount at all times and this will be apparent in the enhanced levels of communication we aim to bring to the business of marketing your property.
We will ensure that our clients are fully informed at every step of the selling process in order that full customer satisfaction is assured at all times.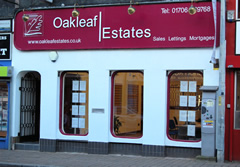 Our services include selling and letting of properties, pre qualification of offers and a whole list of other advisory services involved in these processes.
Come and speak to our staff and management at our Yorkshire Street branch and see how we can help. We hope to see you soon.
Take advantage of our special introductory rates and see how we can sell your property without the stress and with a lot more money saved.